Concept and Direction: Alex Bush
Choreography: Alex Bush in collaboration with the dancers and Emily Gumal, Kyleigh Harm, Ianka Hou, Mariko Ishikawa, Brooke Lilienthal, Juliet Remmers, and Carson Simpson
Music: The Series, The Hawkeye Marching Band featuring the Hawkeye Drumline
Costume Design: Margaret Wenk-Kuchlbauer
Lighting Design: Jim Albert
Video: Alex Bush
Dancers: Darrius Gray, Jenny Fairman, Lauren Macke, Katelynn Malmstedt, Margaret Steimel, Emily Trapnell, Brianna Vogel
Photos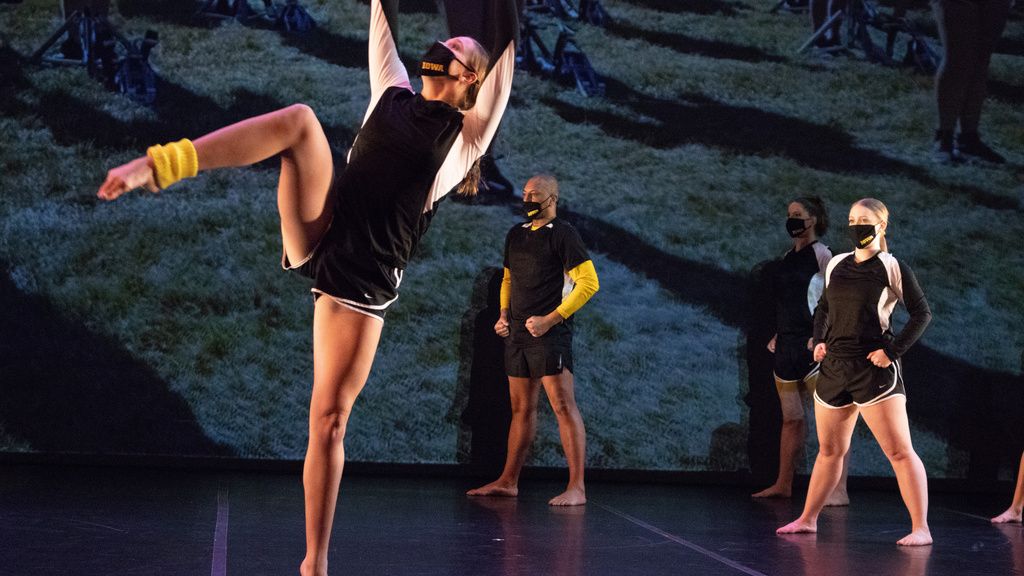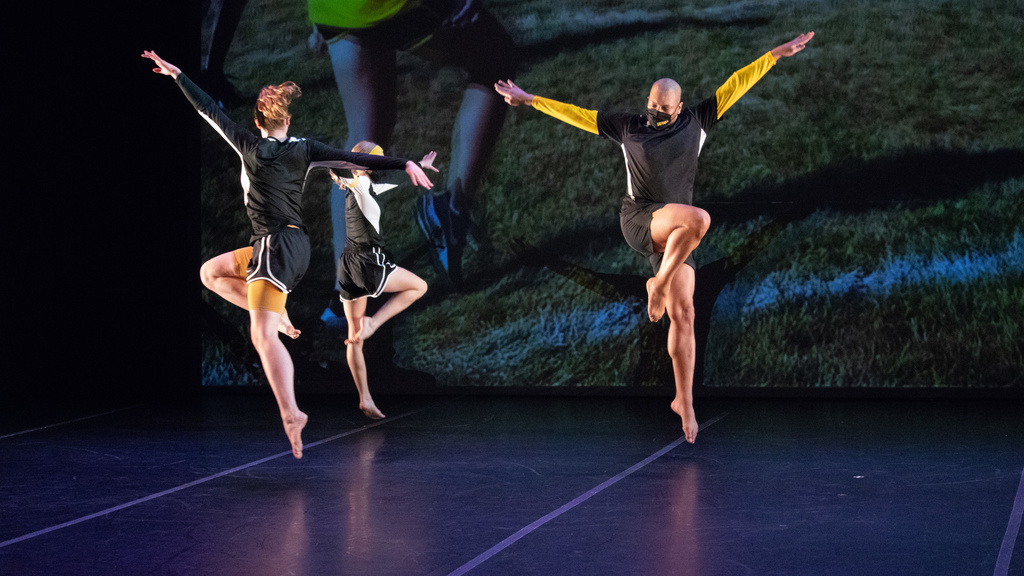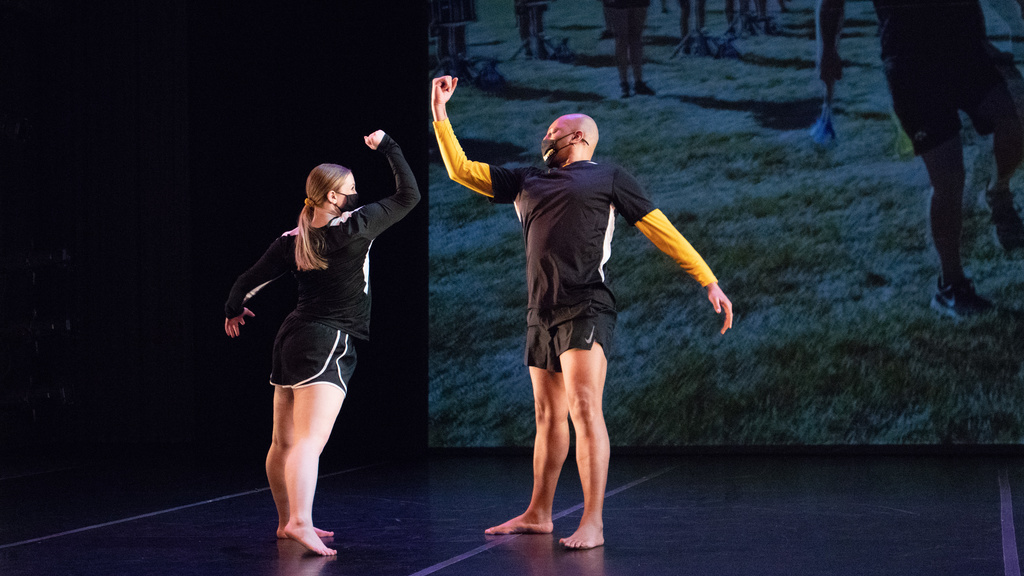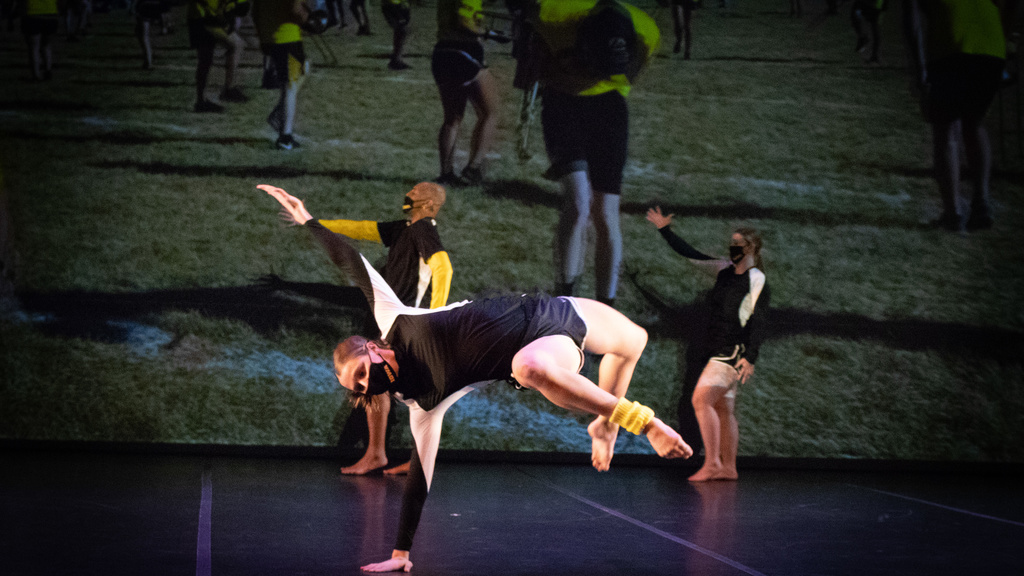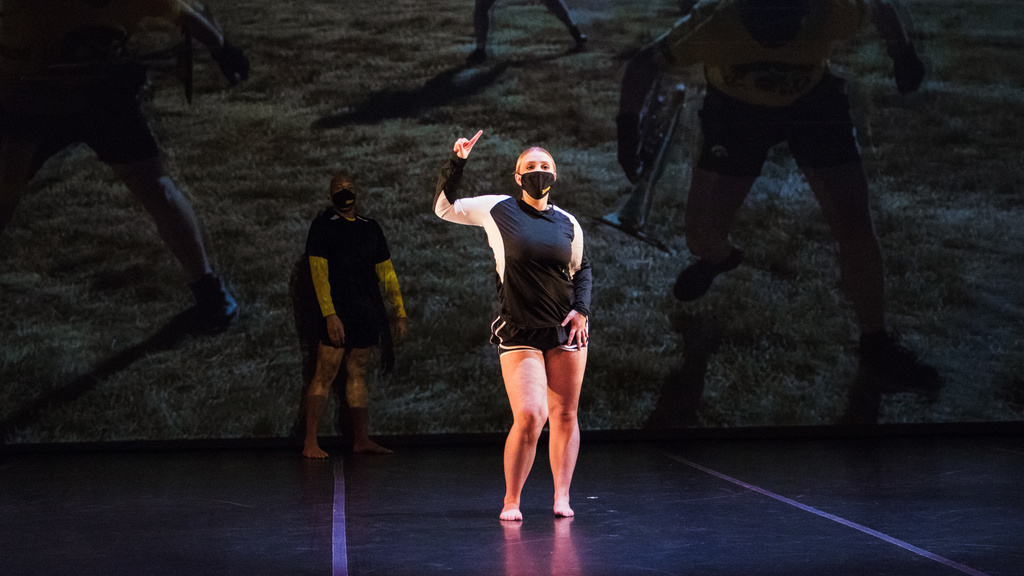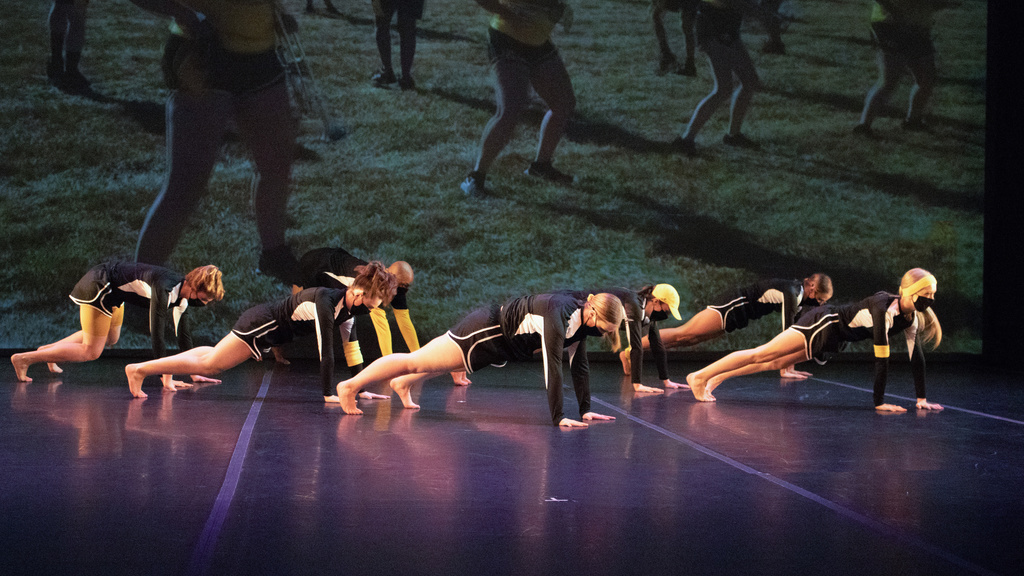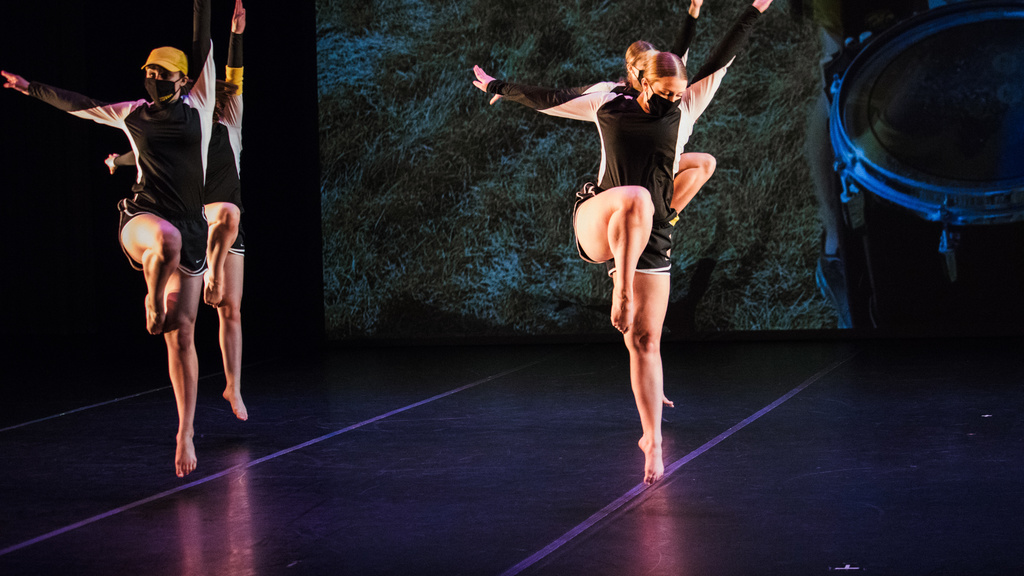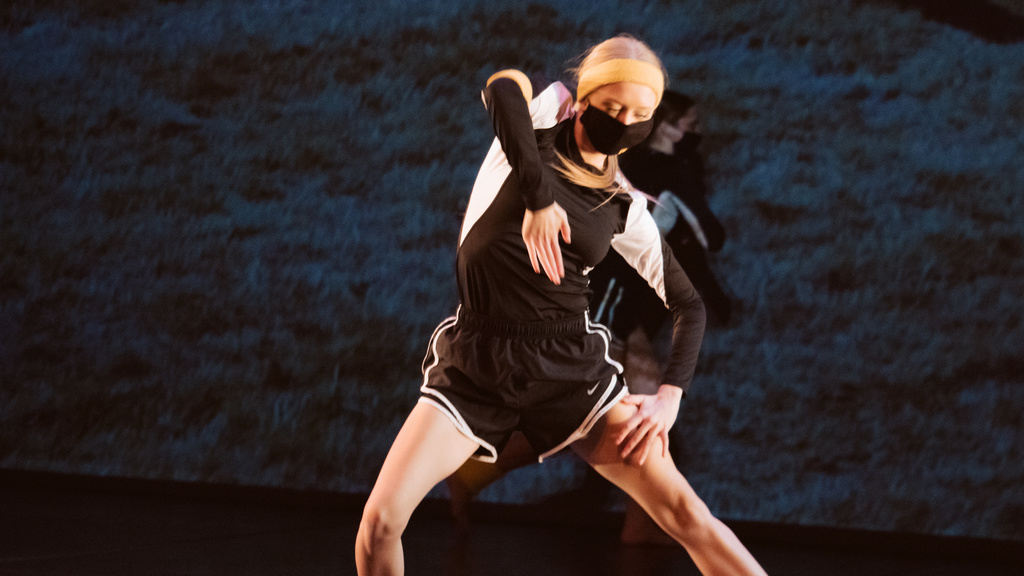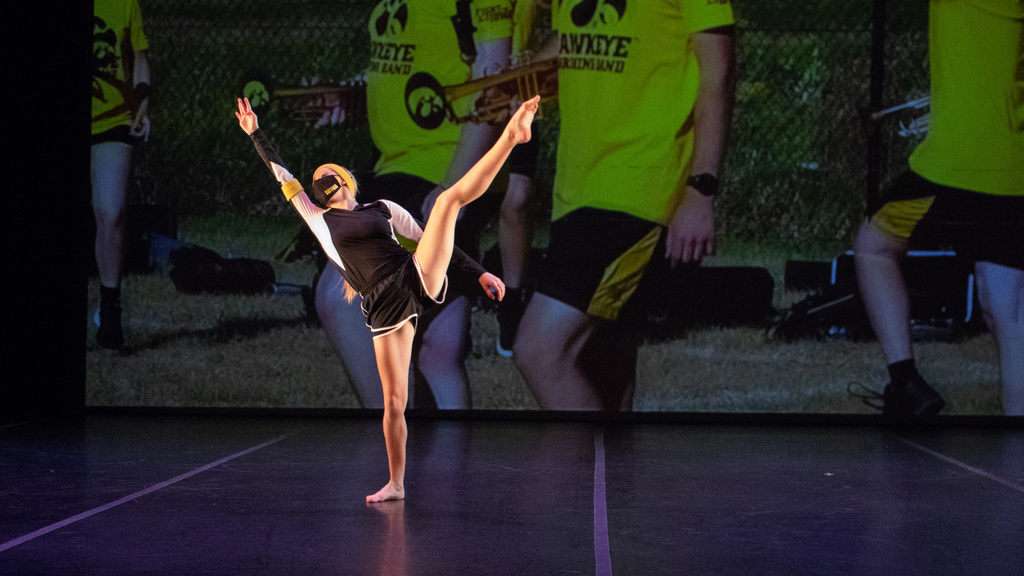 This work grew out of watching my then two-year-old son Brecken move with joyful and reckless abandon to the music of his father's marching band, and a desire to make a work that reflects the joy to be found in moving for movement's sake. I created this with a cast of dancers from Dancers in Company 2020. However, as I spent more time on this work with the original cast, and we directed our attention to the performer's choices throughout, I realized that I was equally drawn to the potential here for us to open up a possibility for our community at large to connect with use in a shared experience. The familiarity and emotional resonance of something like music by the Hawkeye Marching Band creates a point of entry for our audiences, especially those who aren't familiar with concert dance. At its core, this work is really about finding community and connection through the joy of movement. In the last year, we have all become masterful at reaching for connections in ways we never thought possible. My hope is that this work adds another layer of possibility, another place to find common ground, a space to celebrate our connection to each other.
Many thanks to Dr. Eric Bush and the Hawkeye Marching Band, including the Hawkeye Drumline under the direction of drumline instructor Nick Miller: For your innovation in music and performance in incredibly challenging circumstances, and for the role you play as a symbol of togetherness and a Hawkeye spirit that has less to do with football, and much more to do with the strength of our community.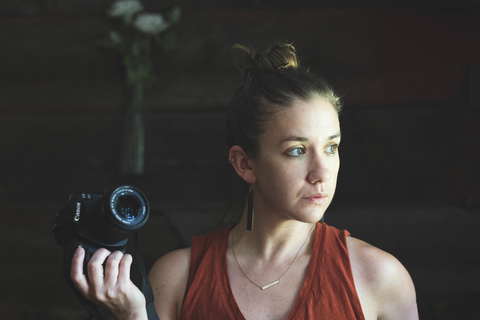 Alex Bush is a dance artist, photographer, and designer serving on faculty and staff for the University of Iowa Department of Dance. In addition to teaching and serving as Associate Director of UI Dance Company, she is the department's recruitment and engagement coordinator and also provides support in marketing, design, and social media. She previously served as adjunct instructor of dance technique, theory, and history at Penn State. Born and raised in Flint, Michigan, she received her early training at the Flint School of Performing Arts. She holds an MFA in dance with an emphasis in choreography from the University of Iowa, and a BFA in dance from Florida State University. As a graduate student at the University of Iowa, she taught ballet, modern, and dance theory; she was also on faculty at the University of Iowa Youth Ballet, a community dance program. She has worked with choreographers Charlotte Adams, Lindsay Fisher, Jennifer Kayle, Darrell Grand Moultrie, Jawole Willa Jo Zollar, Cassie Meador, and Patricia Kenny, among others. With Alex Bush Dance, a collaborative group of dance and performing artists, she has presented work at the Dance Shorts Film Festival (Tampa, FL), Detroit Dance City Festival (Detroit, MI), and the Movies by Movers Film Festival (Boone, NC). From 2006-2008 Alex served as Artistic Director of summerdance Contemporary Dance Company in Flint, Michigan, and from 2009-2012 she worked as a dancer, choreographer, and teaching artist with Circle of Dance Repertory Company (now Patricia Kenny Dance Collection) on Long Island.
Alex's research unfolds through collaborative, interdisciplinary practices, to connect individuals and communities across personal and geographical borders. A major focus is using movement and the body to investigate issues and themes relevant to underrepresented communities and experiences. She is always excited by the possibilities for storytelling through multiple platforms: using photography, video, movement, and writing to tell multi-dimensional stories that resonate with audiences across a broad spectrum of intersecting identities.
Alex currently lives in Iowa City, Iowa, with her family/collaborators, her husband, Eric, and their three-year-old son, Brecken. alexbushdance.com