DE ANTÔNIO, DE BRINCANTE E VIRA MUNDO
(2014/excerpts)
Choreography: Armando Duarte
Music: Antônio Nóbrega - Loá de Abertura*
Ponteio Acutilhado, performed by Antônio Nóbrega and the Quinteto Armorial**
Pernambuco falando para o mundo, performed by AntIonio Nóbrega and guest artists
Incidental music and sound effects by Jason Palamara
Soundtrack Editing: Ramin Roshandel
Costume Design: Margaret Wenk Kuchlbauer
Lighting Design: Jim Albert (based on the original design by Laurel Shoemaker)
Photography and Video Design: Alex Bush, (image selections from Frevo, 100 anos de folia, Timbro editorial-2007)
Dancers: Darrius Gray, Emily Trapnell, and Alyssa Alber with Jenny Fairman, Nicole Humpal, Lauren Macke, Katelynn Malmstedt, Dharmini Piekarska, Kaitlyn Rogers, Sarah Skilling, and Bri Vogel
*music rights from Truléu Produções and Antônio Nóbrega, São Paulo, Brazil
**music rights from publisher Peermusic III Ltd o/b/o Meridional Edições Musicais Ltda. (BMI)
This work is dedicated to Antônio Nóbrega, Brazilian composer, dancer, and researcher. "Toninho," this one is for you!
My gratitude to the cast members for their dedication, hard work, and endless enthusiasm to bring this piece to life, thank you!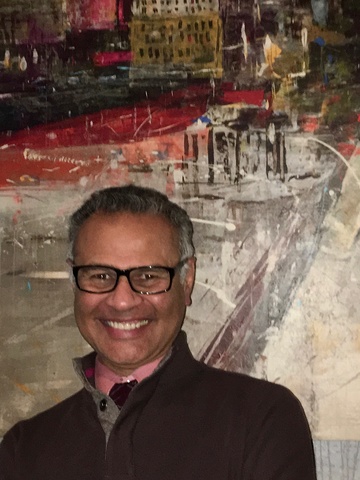 UI Professor, contemporary choreographer, and researcher of the Brazilian popular culture, Armando Duarte, is a Brazilian/American citizen who holds a BS in Physical Education from the University of São Paulo and an MFA degree in Choreography and Performance from NYU (Tisch School of the Arts).
Since coming to the UI in 1993, he has created and re-staged numerous choreographic works for companies in the US, Brazil, and other countries. Currently, his academic research involves an in-depth investigation into the Brazilian popular culture of Samba and Carnival, from which he created courses that involve theoretical and practical experiences on various aspects related to the "culture of the body" in the context of Samba and Carnival in Brazil. As a result of this research, he created the Brazilian Culture and Carnival course for UI students and has been leading groups of UI students to experience the making of the Brazilian Carnival parades in Rio de Janeiro and São Paulo, Brazil. In the US, he has been presenting lectures on the subject at numerous conferences and universities, including visits to the University of New Mexico, University of Wisconsin Milwaukee, The Ohio State University, Dennison University, San Diego State University, and Augustana College.
At the University of Iowa, he is a two-time winner of the Iowa Old Gold Summer Fellowship, recipient of several grants from the Support Program for Arts and Humanities and the Arts and Humanities Initiative Program, and the recipient of the Obermann Center for Advanced Studies and Interdisciplinary Research Grant. Professor Duarte is also a member of the American and Portuguese Studies Association (APSA), Brazilian American Studies Association (BRASA) and the Conference of Latin American and Caribbean Studies (CLACS).