Choreography: Stephanie Miracle and Alex Bush in collaboration with the dancers, with input from partners at the Iowa City Senior Center
Music: David Schulman, with recorded text from the dancers and Iowa Senior Center partners
Sound score designed by Stephanie Miracle
Costume Designer: Margaret Wenk-Kuchlbauer
Lighting Designer: Jim Albert
Scenic Designer: Stephanie Miracle
Dancers: Jenny Fairman, Madison Holtz, Talia Howard, Hayden Jensen, Ashley McKim, Maggie O'Gorman, Cameron Rezabek, Katherine Shamdin, Kate Tonn, Ellen Welch
Senior Partners: Karen Charney, Chuck Felling, Nancy Halder, Mary Merkel-Hess, Steve Merkel-Hess, Theresa Messlein, Marguerite Miller, Polly Porter, Michael Sinclair, Bertie Weikert
Special thanks to Emily Light Edrington of the Iowa City Senior Center, for her support in facilitating our partnership with seniors from the Iowa City community throughout the creation of this work; and to our brilliant senior partners, for their generosity, care, and intention throughout our collaborative process.
This piece is a quilt composed of fragments from letters, conversations, shared gestures, memories, and maps ofdream homes. Over four months, UIDC company dancers exchanged letters and conversations with seniors from Iowa City Senior Center on the subject of home, place, memory, and sensory experiences. What you will see is a small window into of the depth of their correspondence.  

The process was facilitated by UIDC directors Stephanie Miracle and Alex Bush. Scenic design, costume design, and original tracks from David Schulman are based off Figure Eights, an intergenerational piece choreographed by Miracle in 2013.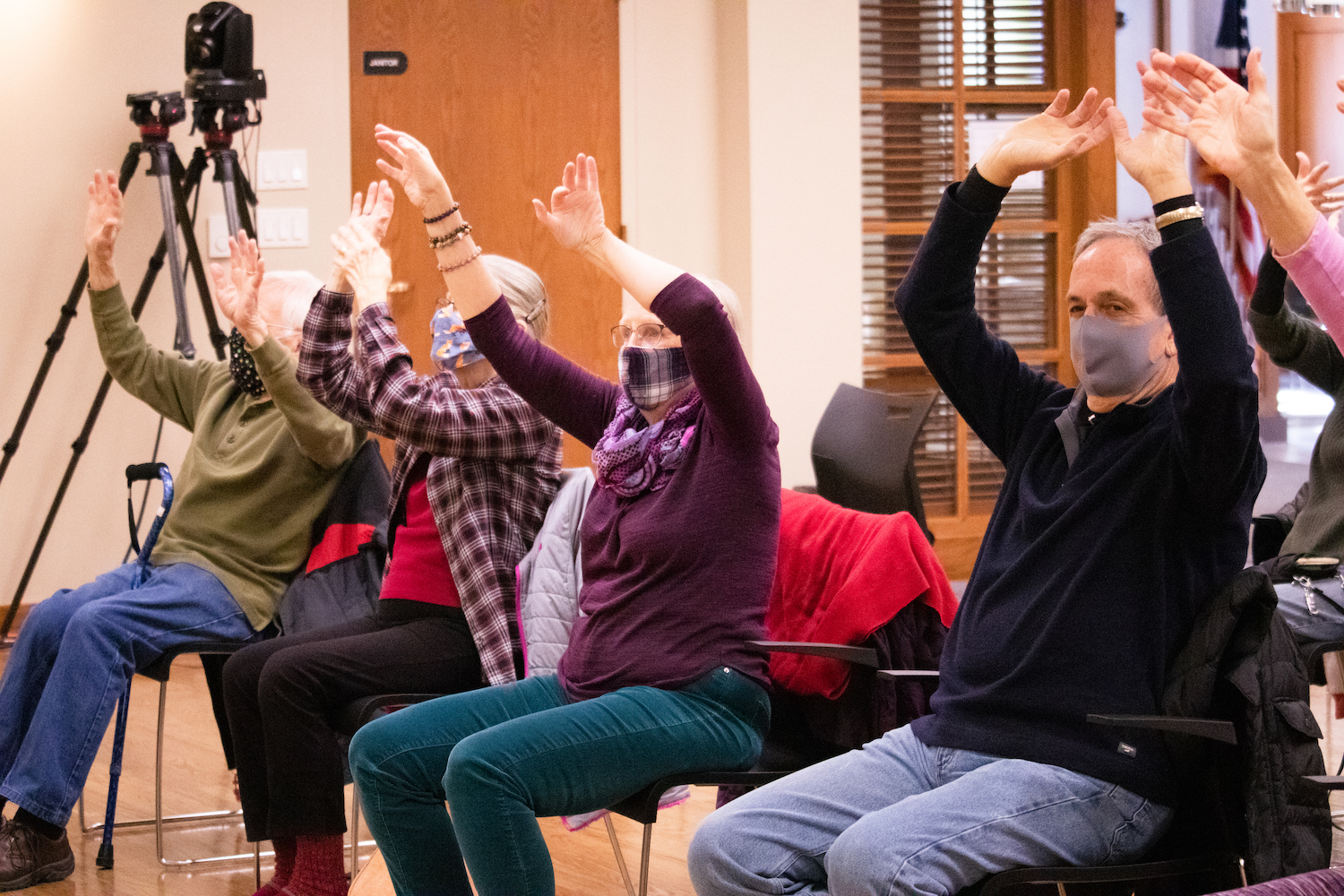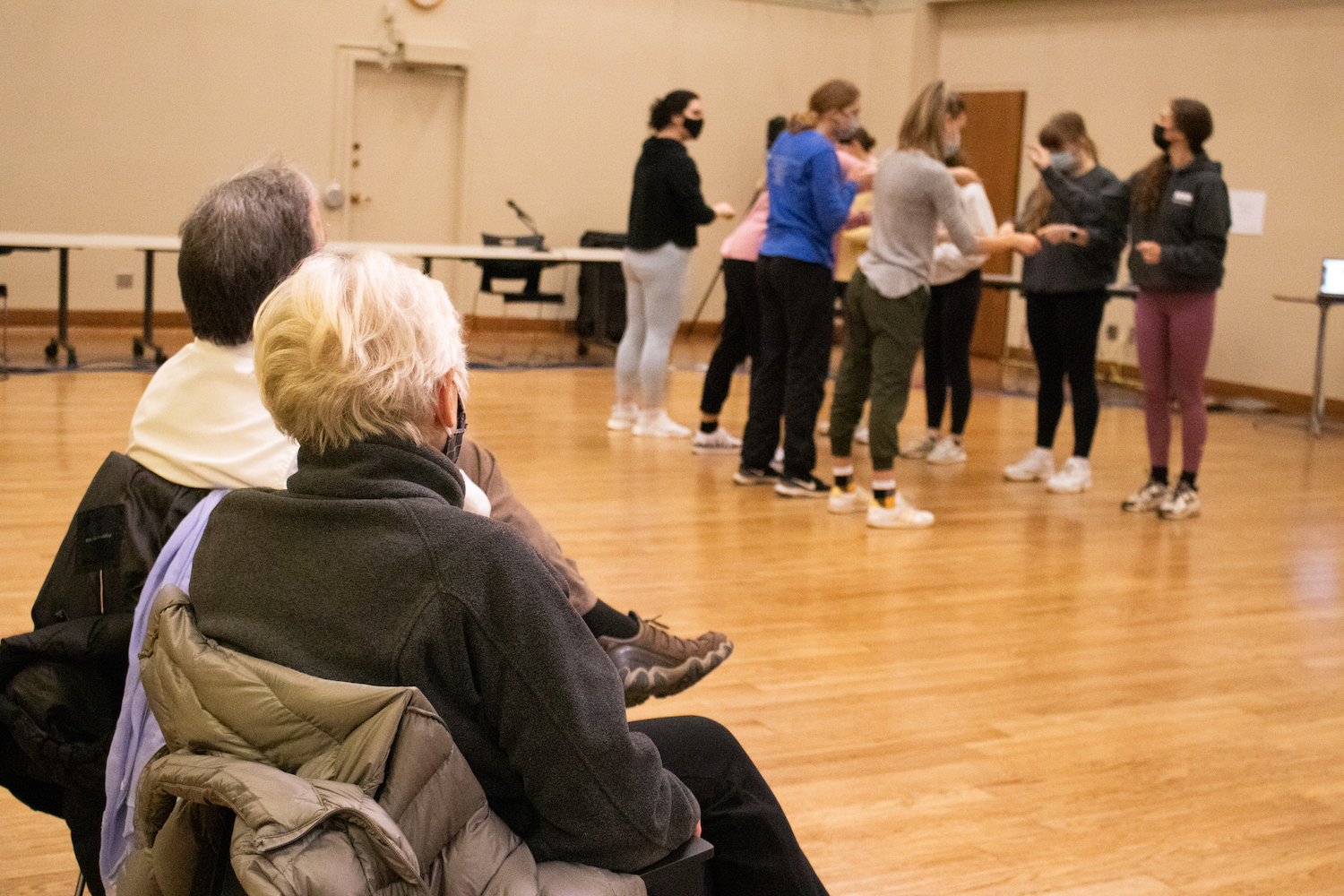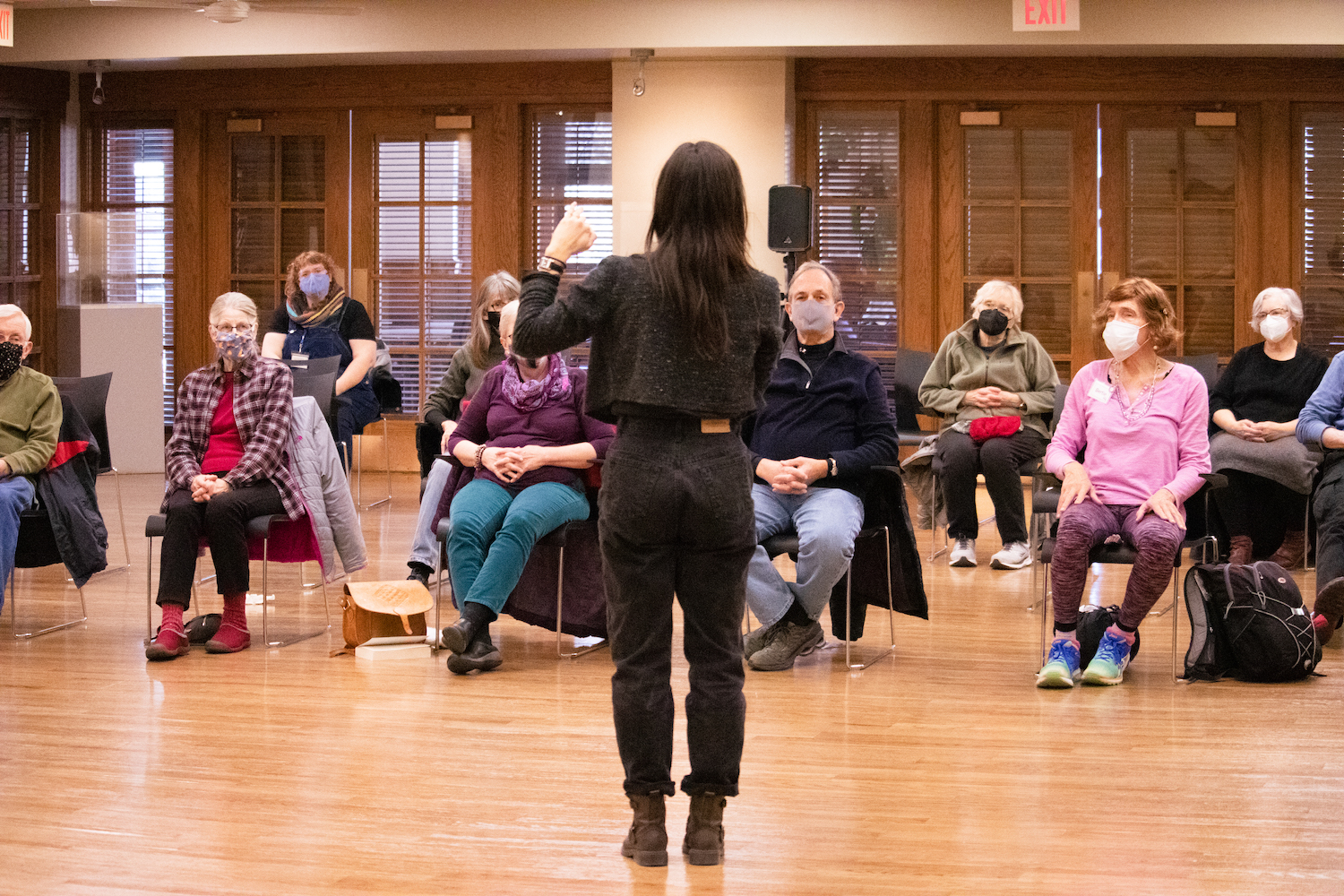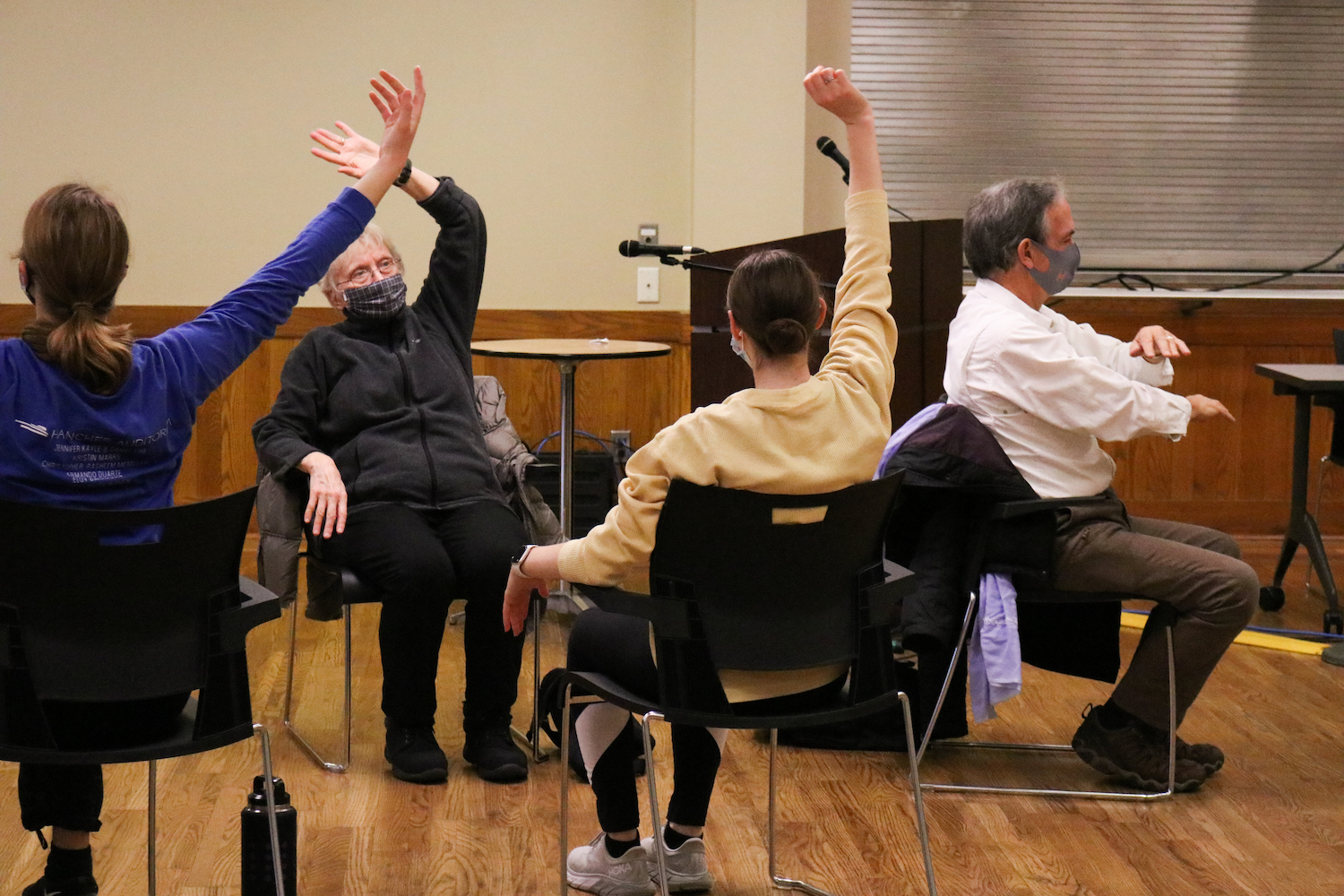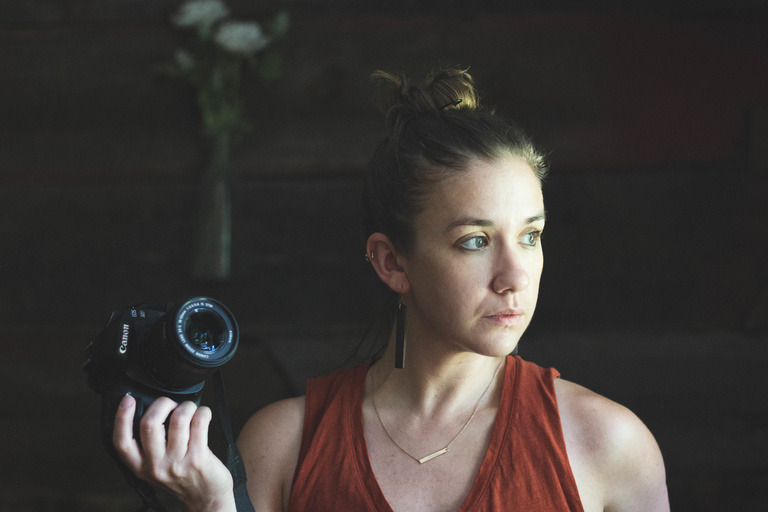 Alex Bush is a dance artist, photographer, and designer serving on faculty and staff for the University of Iowa Department of Dance. In addition to teaching and serving as associate director of UI Dance Company, she is the department's recruitment and engagement coordinator and also provides support in marketing, design, and social media. She previously served as adjunct instructor of dance technique, theory, and history at Penn State. Born and raised in Flint, Michigan, she received her early training at the Flint School of Performing Arts. She holds an MFA in dance with an emphasis in choreography from the University of Iowa, and a BFA in dance from Florida State University. As a graduate student at the University of Iowa, she taught ballet, modern, and dance theory; she was also on faculty at the University of Iowa Youth Ballet, a community dance program. She has worked with choreographers Charlotte Adams, Lindsay Fisher, Jennifer Kayle, Darrell Grand Moultrie, Jawole Willa Jo Zollar, Cassie Meador, and Patricia Kenny, among others. With Alex Bush Dance, a collaborative group of dance and performing artists, she has presented work at the Dance Shorts Film Festival (Tampa, Florida), Detroit Dance City Festival (Detroit, Michigan), and the Movies by Movers Film Festival (Boone, North Carolina). From 2006-2008 Alex served as artistic director of summerdance Contemporary Dance Company in Flint, Michigan, and from 2009-2012 she worked as a dancer, choreographer, and teaching artist with Circle of Dance Repertory Company (now Patricia Kenny Dance Collection) on Long Island.
Alex's research unfolds through collaborative, interdisciplinary practices, to connect individuals and communities across personal and geographical borders. A major focus is using movement and the body to investigate issues and themes relevant to underrepresented communities and experiences. She is always excited by the possibilities for storytelling through multiple platforms: using photography, video, movement, and writing to tell multi-dimensional stories that resonate with audiences across a broad spectrum of intersecting identities.
Alex currently lives in Iowa City, Iowa, with her family/collaborators, her husband, Eric, and their three-year-old son, Brecken. alexbushdance.com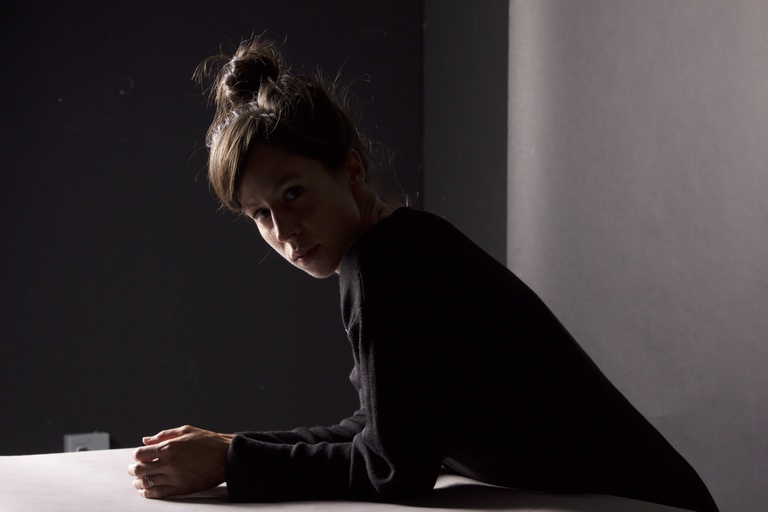 Stephanie Miracle is an international choreographer and teaching artist investigating the intersections between the ordinary/seen and imagined/unseen landscapes. Her process is dedicated to the concept of abundant possibility found within awareness and play in the everyday setting. These works manifest through site-specific happenings, sound installations, experimental films, and live stage performances.
Stephanie's choreography has been described as "iconic and nuanced…with an irreverence that makes you smile unconsciously" (Rick Westerkamp review of GROOVE, 2014). Her projects have been presented in Germany, Italy, Mexico, Turkey, Hungary, Ireland, Russia, New York City, Los Angeles, and Washington, DC, by various institutions including MetLife Foundation, Exchange Festival, Dance Place, Supernoval Festival, Open Look Festival, Performatica, Belhaven University, ES WIRD SOGAR SCHÖN, Barnes Crossing, Fiktiva Festival, kunstOrteleven, Santa Barbara Dance Theatre, The Clarice Smith Performing Arts Center, and WAM! Festival. Other awards include the Smith Scholarship Grant to attend ImPulsTanz in 2012, dance artist-in-residence at Omi International Dance Residency 2012, Guest Mentor of Omi Dance in 2016, DC Innovation grant in 2013, Bates Dance Festival Merit Scholarship 2013, Goldhaber Travel Scholarship 2014, and NextNOW 2014, Interdisciplinary Humanities Grant 2018, Trust for Mutual Understanding 2019, Public Arts CIC 2020, and Arts Across Borders 2021. Her collaborative piece Drafting Plan was awarded Best Duo at Barnes Crossing Festival 2015 in Cologne and at the 2016 SzoloDuo Festival in Budapest. 
She has been an artist in residence at Keshet Arts, Omi International, kunstOrt_eleven, and Socrates Sculpture Park. Her dance films have been shown at Lincoln Center Dance for Camera, EnCore: Dance on Film, Reutlingen Museum, Iowa International Dance Festival, Athens Experimental Film Fest, and RAD Dance Fest. Her most recent experimental film project, MAMMAL HALL, was created with Auden-Lincoln Vogel, Ramin Roshandel, and UI dancers while in residence at the University of Iowa Musuem of Natural History. 
A 2014/15 German Fulbright Fellow in the Performing Arts, Stephanie has focused her research on the embodied practice of tanztheater. Examples of her field work include intensively studied Jooss-Leeder technique, learned repertory from Pina Bausch with the Tanztheater Wuppertal, studied Inner Suspension with Susanne Linke, and worked on a new creation with Reinhild Hoffmann. Her research is searching for intersections between Klein Technique™ and European tanztheater specifically in dynamic use of space and expression through the body.
As a performer she has had the privilege of dancing professionally for Deganit Shemy, Laura Peterson, Shannon Gillen/Vim Vigor, David Dorfman Dance, Joseph Poulson, Susan Marshall and Company, Liz Lerman Dance Exchange, Graham Brown, Rodolpho Leoni, Henrietta Horn, PEARSONWIDRIG DANCETHEATER, and Deborah Hay. In 2015, she joined as a full-time company member with the Folkwang Tanzstudio/FTS and from 2018 - 2019 she was the company's choreographer in residence. 
She is the director of FAKERS CLUB (2015 - present), an international ensemble research project that creates live-cinema performances in public spaces, and frequently works in collaboration with Carla Jordao (PT), Idil Kemer (TU), Paola Ponti (IT), Giovanni Impellizzieri (IT), Anna Shchekleina (RU), Jason Snell (US) and others. Through the support of an Iowa Arts Council Resilience Grant '21/'22, she will continue her collaboration with Steven Willis and Ramin Roshandel on an expanded version of The Parking Space, an interactive listening piece for a humble parking ramp in downtown Iowa City.
Stephanie holds an MFA in dance (2014) from the University of Maryland and a BA in dance from Belhaven University (2004). She became a certified teacher of Klein Technique™ in 2017 and regularly teaches workshops nationally and internationally. She is in her third year as a visiting assistant professor of dance at University of Iowa.