Choreography: Joshua L. Peugh
Music:
Hey There
Artist: Sammy Davis, Jr.
Album: The Decca Years (MCAD-10101)
Originally from The Pajama Game (1954)
Written by: Richard Adler and Jerry Ross
The Party's Over
Artist: Julie London
Album: Around Midnight Originally from Bells Are Ringing (1956)
Written by: Jule Syne
Lyrics by: Betty Comden and Adolph Green
Luz y Sombra
Artist: Esencias
Album: X Concurso de Polka
Profr. Jesús Daniel Andrade González (2012)
Costume Design: Conceived by Joshua L. Peugh, executed by Michael Landez
Lighting Design: Alastair Sigala Ramirez
Spoken Poetry: UpsideDown written by Mariana Tejeda
Dancers: Juliet Remmers and Michael Landez
This performance will use theatrical haze and contains loud noises.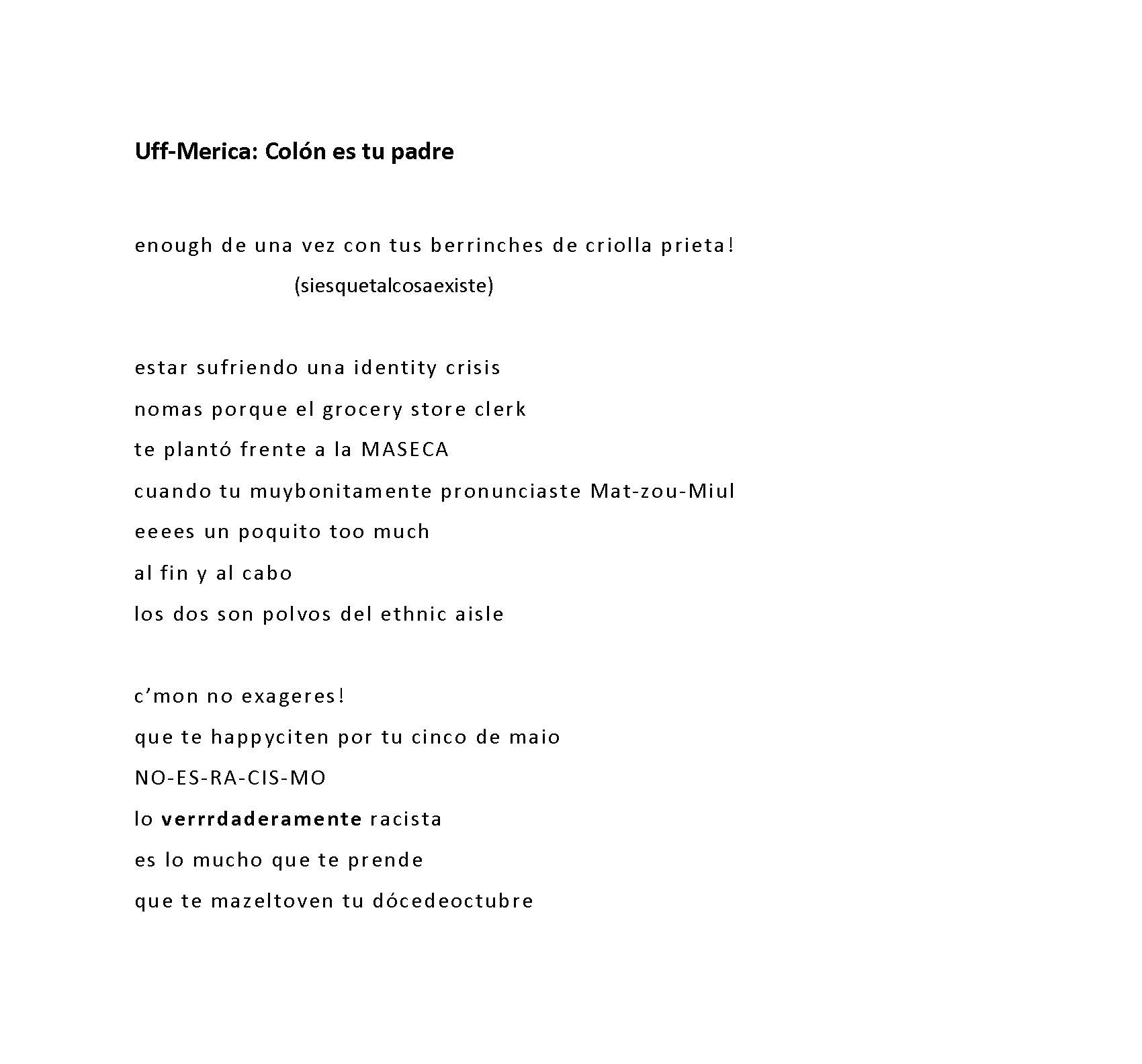 Uff-Merica: Colón es tu padre
by Mariana Tejeda
enough de una vez con tus berrinches de criolla prieta!
     (siesquetalcosaexiste)
estar sufriendo una identity crisis
nomas porque el grocery store clerk
te plantó frente a la MASECA
cuando tu muybonitamente pronunciaste Mat-zou-Miul
eeees un poquito too much
al fin y al cabo
los dos son polvos del ethnic aisle
c'mon no exageres!
que te happyciten por tu cinco de maio
NO-ES-RA-CIS-MO
lo verrrdaderamente racista
es lo mucho que te prende
que te mazeltoven tu dócedeoctubre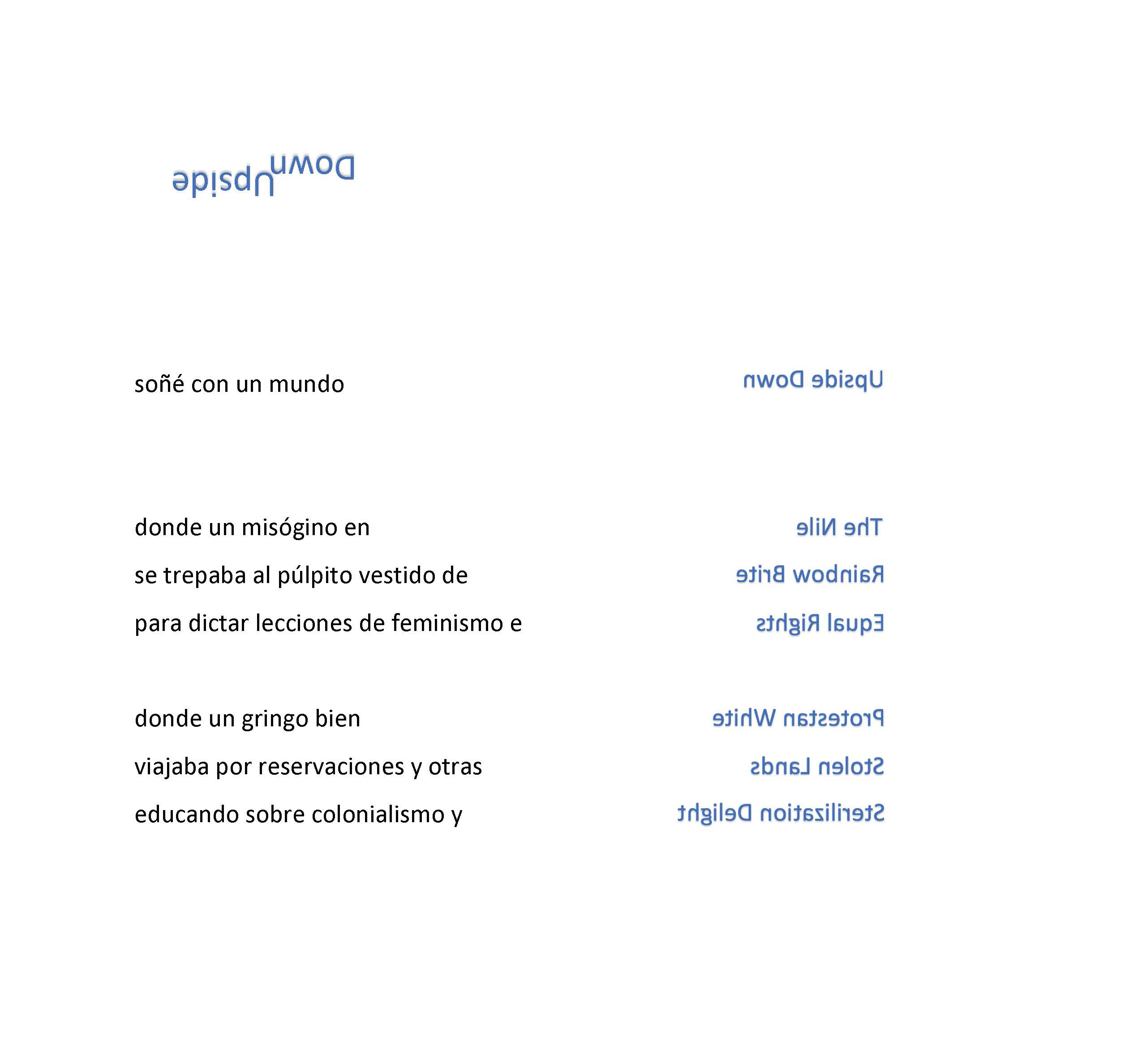 Upside Down
by Mariana Tejeda
Soñé con un mundo
\\ Upside Down
donde un misógino en
\\ The Nile
se trepaba al púlpito vestido de
\\ Rainbow Bright
para dictar lecciones de feminismo e
\\ Equal Rights
    
donde un gringo bien
\\ Protestant White
viajaba por reservaciones y otras
\\ Stolen Lands
educando sobre colonialismo y
\\ Sterilization Delight
First, we would like to thank Josh for coming to Iowa in the throws of a pandemic to create this work with us; thank you for being so flexible, fun, and thoughtful with our questions and ideas. Second, we want to thank Mariana Tejeda for being the most dedicated viewer and sincere friend. Without you and your generosity, this work would not have half the depth it reaches for. Third, we would like to thank the Graduate College for funding this work through an MFA Summer Fellowship (2019). Finally, we want to thank our entire queer relational web that supported us to this final place in our graduate school experience. Thank you to Cindy Kubu, for helping me learn all about justifying the pattern. Thank you to Laila J. Franklin, who encourages us to question beyond what is possible. To Mariko Magee Ishikawa, for providing light and levity. To Ann, for asking us the tough questions. To Alyssa, Bethany, Ailey, Jeremy, Kate, Jessie, Julia, and Anna - thank you for dancing through a pandemic with us. To the innumerable friends we made along the way, thank you for making it into our found family.
Rehearsal Photos Carousel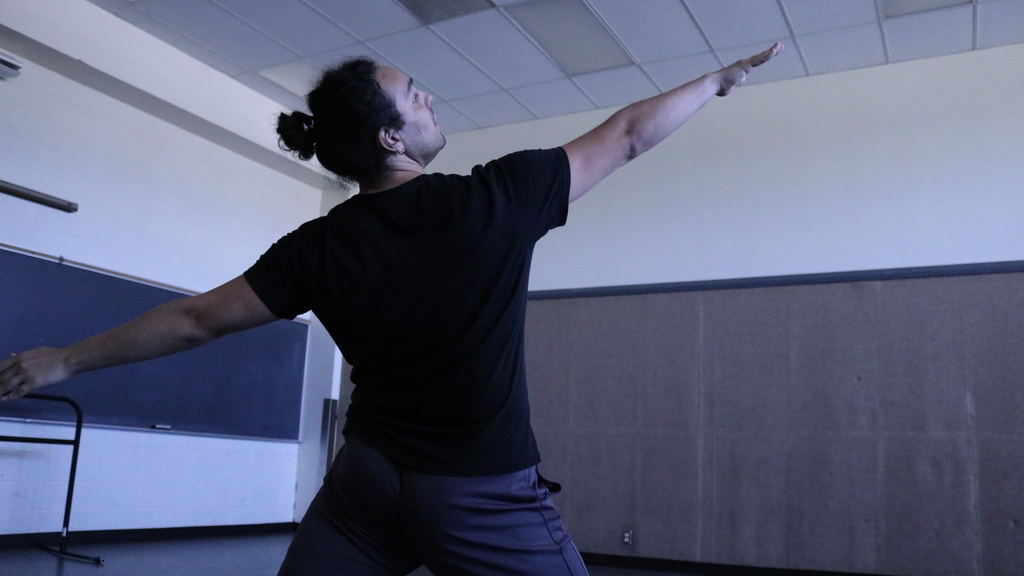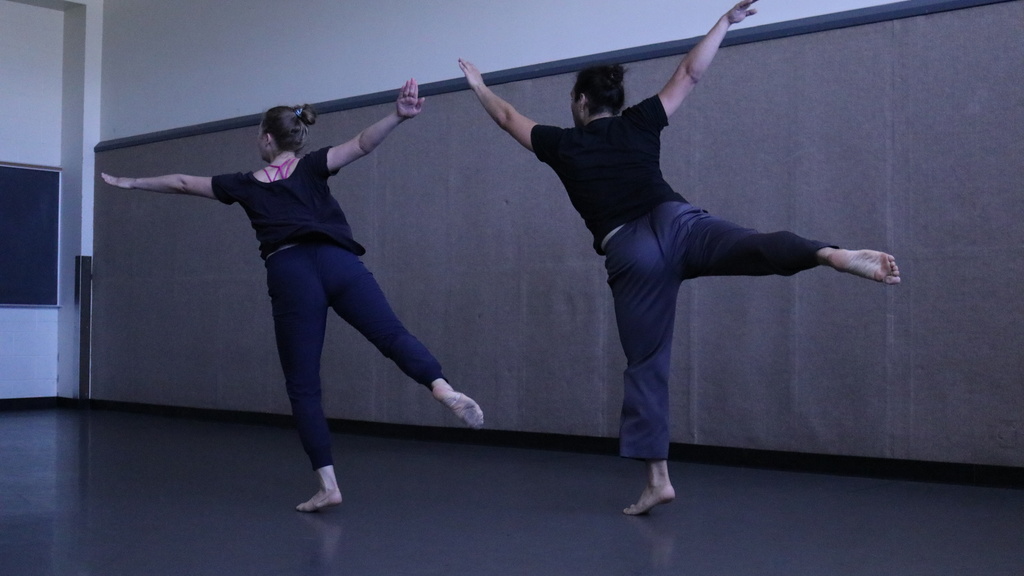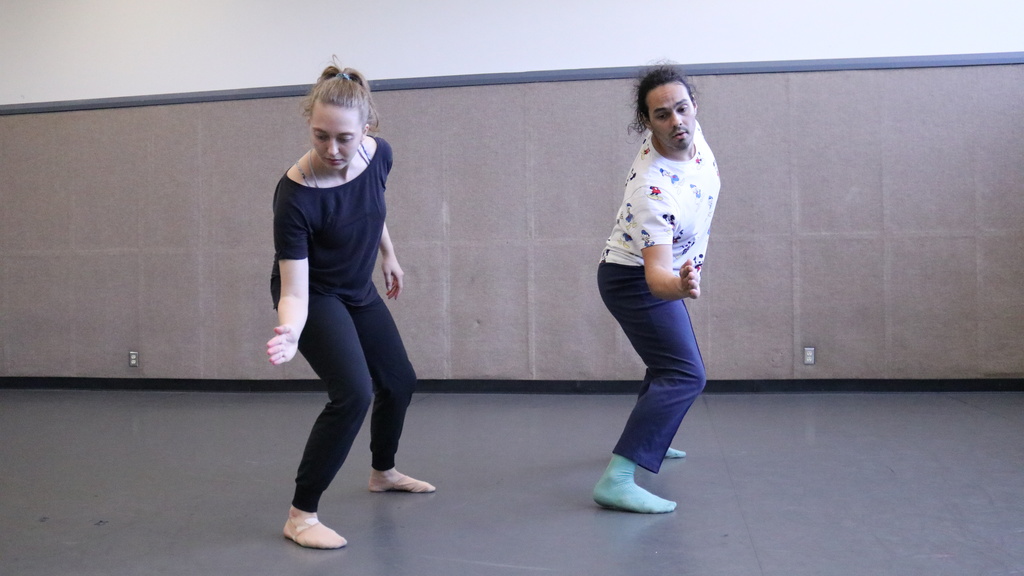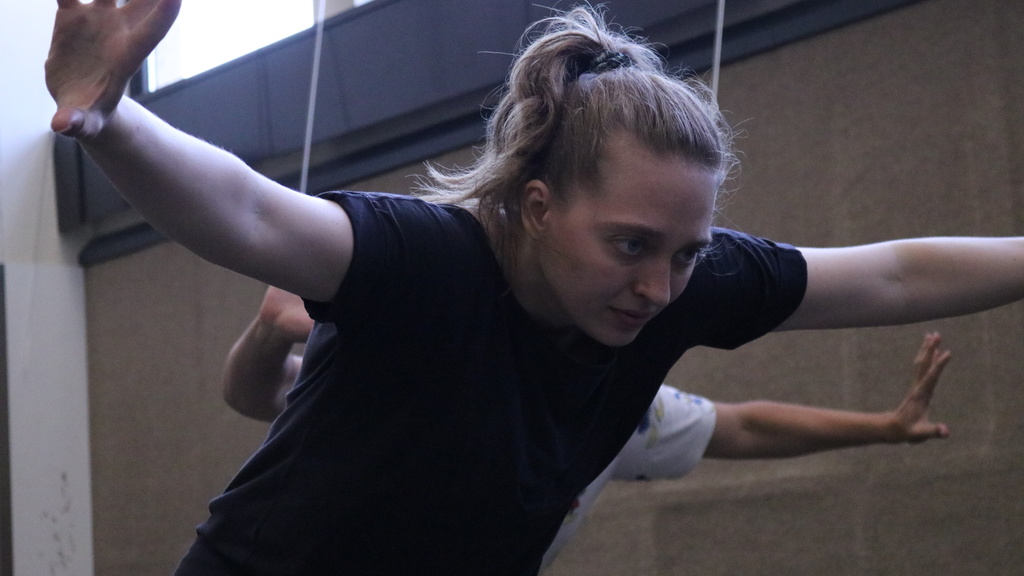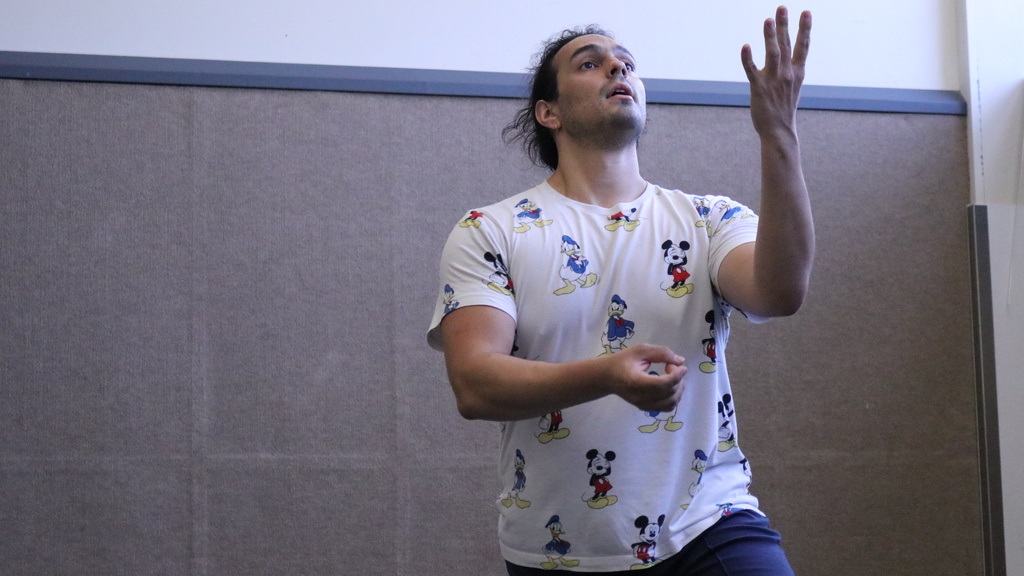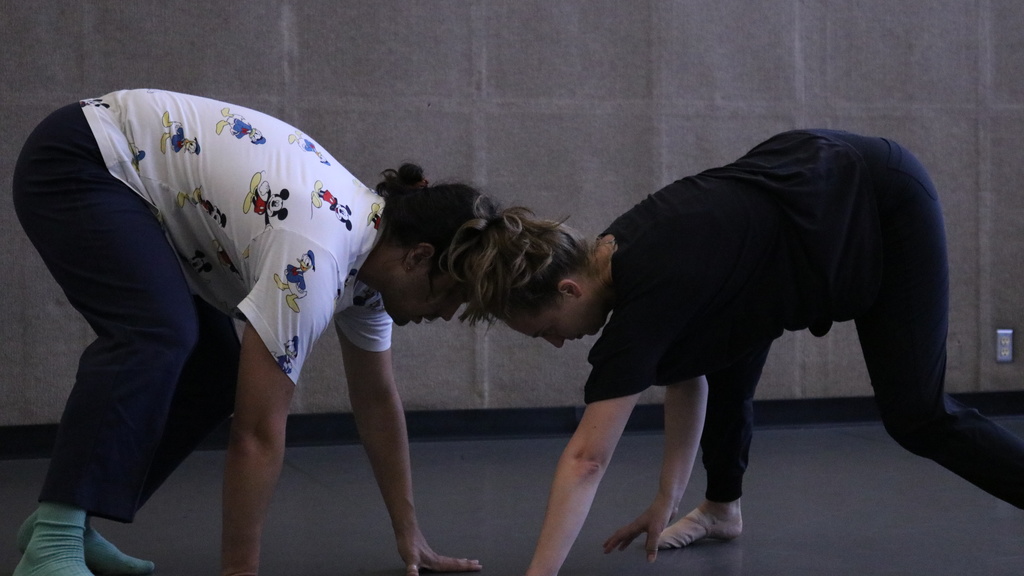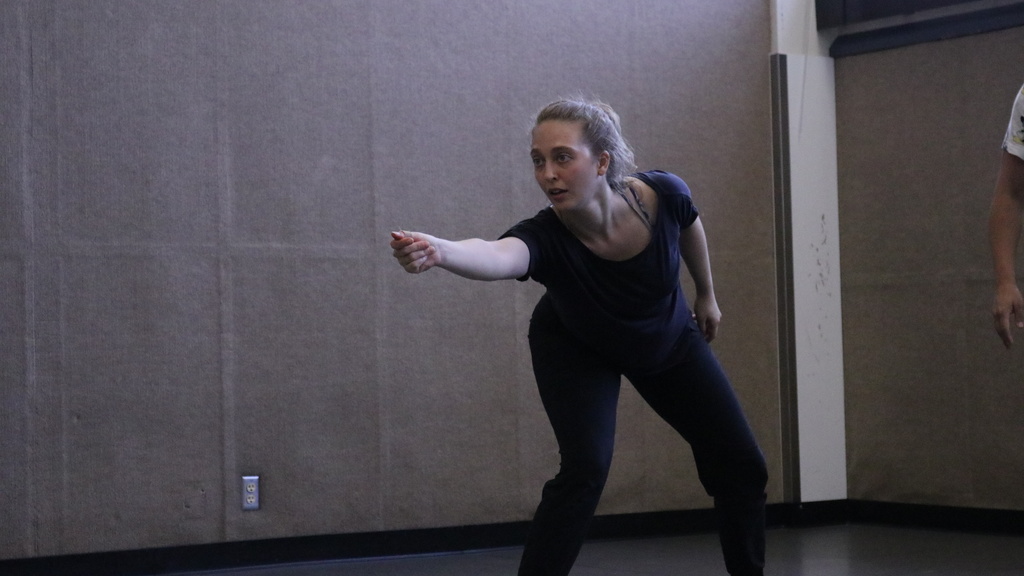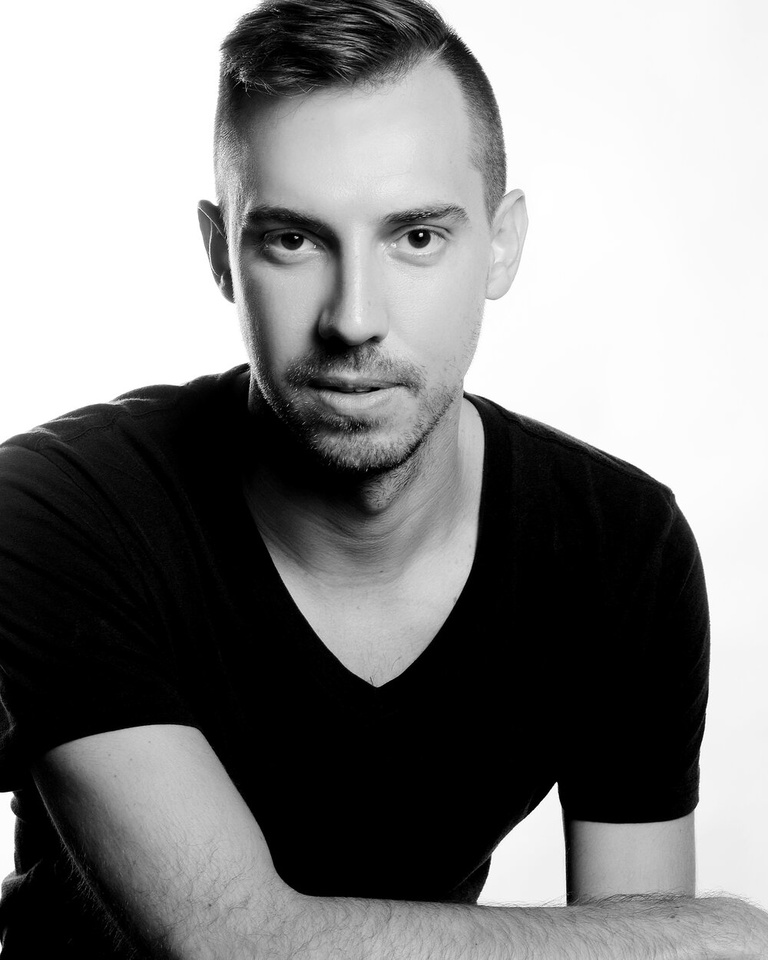 Joshua L. Peugh (he/him) is the founder and artistic director of Dark Circles Contemporary Dance and co-founder of Fair Assembly. A graduate of Southern Methodist University and an alumnus of Universal Ballet (under the direction of Oleg Vinogradov), he has created work for festivals in Asia, Europe, and North America, winning awards for his choreography in South Korea, Japan, Canada, and the United States. He was the recipient of the Grand Prize at the McCallum Theatre's 18th Annual Choreography Festival, and Dance Magazine chose him as one of their "25 to Watch." Joshua served as choreographer for legendary soprano Kathleen Battle's concert Underground Railroad - A Spiritual Journey and was the 2018 recipient of the Natalie Skelton Award for Artistic Excellence. He has created over 40 new works for BalletX, Ballet Memphis, The Big Muddy Dance Company, BODYTRAFFIC, Bruce Wood Dance Project, Collage Dance Collective, Company E, Dallas Black Dance Theatre, Dallas Theater Center, Dance Lab NY, DanceWorks Chicago, Eisenhower Dance, Korea National Contemporary Dance Company, MADCO, METdance, Missouri Contemporary Ballet, Tulsa Ballet, Verb Ballets, and Whim W'Him, among others.
Mariana Tejeda is a Mexican stage manager born in Ciudad de México. Mariana started her writing career at seventeen at the Writer's School in Mexico City, where she got some of her short stories published in compilations and magazines. Then she chickened out and exiled herself in the theater. After more than a decade hidden backstage, Mariana is finally putting down the headset to come out as a writer (again), and Iowa seems like the perfect location to do so. Next year, Mariana will dive deeper into performance as she joins the Dance Department as an MFA candidate!