Choreography: Margaret Steimel
Music:
Linus and Lucifer composed by Osiris Ramos
Ballet of the Little Cafe (Solo Piano) by Brian Crain
Costume Design: Juliana Waechter
Lighting Design: Jim Albert
Dancers: Alyssa Alber and Mia Nagl
This work is informed by an episode of The Happiness Lab, a podcast hosted by Dr. Laurie Santos titled "Emotions are Data...So Listen to Them," as well as other sources of psychological research. This movement is an embodiment of multiple ways in which humans deal with negative emotions. This piece explores harmful methods of dealing with emotions such as suppressing or bruting in an emotion to then exploring more effective methods such as cognitively reappraising or nurturing the negative emotion.
I would like to give a special thanks to Dr. Laurie Santos and Dr. Dorit Kliemann for informing the psychological aspects. I would also like to thank Emmalee Hallinan, Jaruam Xavier, Eloy Barragán, and students of Choreography II for helping me through the creation of this work. Thank you to Osiris Ramos for composing an original score for this score in record breaking speed. This work would not be the same without your hard work and talent. Additionally, I would like to thank the adjudication committee for helping this work see this stage, and of course my dancers Alyssa Alber and Mia Nagl for bringing this concept to life.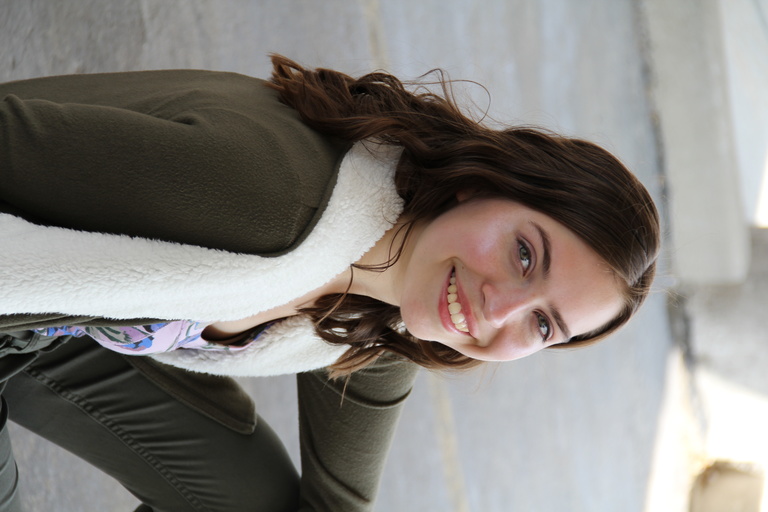 Margaret Steimel is a third-year student at the University of Iowa where she is expected to receive her BFA in dance and BS in psychology in spring 2023. Margaret began dancing at the age of three at Steps Dance Center in her hometown of Aurora, Illinois, where she trained in multiple styles of dance (hip-hop, contemporary, jazz, ballet, femme-hop, modern, tap, ballroom, and musicaltheater). In her time at Steps, she was a member of Funk Effect hip-hop company under the direction of Karlo and Angelina Familara which performed locally and competed at Prelude Midwest and World of Dance Chicago. From 2019 to 2021 she was a member of Hollywood Vibe Pro-Company, where she assisted conventions, performed, and worked closely with the esteemed Hollywood Vibe Faculty (Kevin Maher, Liz Imperio, Kent Boyd, David Moore, Karen Chuang, and Adrian Lee). Through the University of Iowa Department of Dance, she has made numerous appearances in performances - thesis concerts, Dance Gala, and UI Dance Company tours. Margaret Steimel has complemented her dance training by attending dance intensives in Chicago, Los Angeles, and teaching at her home studio.
Dr. Laurie Santos is professor of psychology and head of Silliman College at Yale University. Dr. Santos is an expert on human cognition and the cognitive biases that impede better choices. Her course, "Psychology and the Good Life," teaches students what the science of psychology says about how to make wiser choices and live a life that's happier and more fulfilling. The class is Yale's most popular course in over 300 years and has been adapted into a free Coursera program that has been taken by over 3.3 million people to date. Dr. Santos has been featured in numerous news outlets including the The New York Times, NBC Nightly News, The Today Show, CBS This Morning, NPR, GQ Magazine, Slate, CNN, and O, The Oprah Magazine. Dr. Santos is a winner of numerous awards both for her science and teaching from institutions such as Yale and the American Psychological Association. She has been featured as one of Popular Science's "Brilliant 10" young minds and was named TIME's "Leading Campus Celebrity." Her podcast, The Happiness Lab, launched in 2019 has over 35 million downloads.