Choreographed by Maggie O'Gorman in collaboration with dancer Margaret Steimel
"Intrusion" is based on the unwelcomed thoughts that play in a person's head. The constant running of words with no way of escaping it. Using the motions of two dancers in space, we are investigating how to explore these uncomfortable feelings through the body.
Dancers:
Maggie O'Gorman
Margaret Steimel
Artistic Team
Music: 
Original Score by Ramin Roshandel
Costume Designer:
Juliana Waechter
Lighting Designer:
James Albert
Advisor:
Melinda Jean Myers
Special Thanks
I would like to thank my advisor for my BFA Capstone project, Melinda Myers. Thank you for inspiring me throughout this process, and helping me portray my ideas through movement vocabulary. I would also like to thank my musician, Ramin Roshandel for trusting this process and using your creativity and talents to create this score of music. Thank you to my partner, Maggie Steimel for being completely open to this process. Dancing with you and collaborating creative thoughts with you made this piece what it is today.
Meet the Musician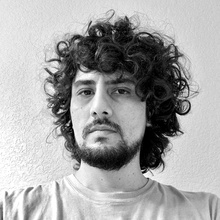 Ramin Roshandel is a composer and setar player. His composition is based around incorporating experience as a fundamental concept through a non-experimental approach in performance. Considering phenomena such as instability, cultural identity, and communicational language on one hand, and being inspired by Persian music intervals as a setar player on the other, has led him to consider indeterminate, improvisatory, and abstract structures in his music to contrast or converge with post- or non-tonal forms. Ramin is a Summer Institute for Contemporary Music Practice (SICPP) and New Music On the Point alumnus. His compositions have been performed by Benjamin Coelho, Anna Elder, Nicole Esposito, Will Fried, Daniel Schreiner, The JACK Quartet, Ensemble Dal Niente, Kamratōn Ensemble, and LIGAMENT duo, as well as in Society for Electro-Acoustic Music in the US Conference (SEAMUS), NYC Electroacoustic Improvisation Summit, MOXSonic, TurnUp Multimedia Festival, the Society of Composers, SCI's Summer Student Mixtape, and Cleveland Uncommon Sound Project's Summer Sounds. He is currently a PhD candidate in Music Composition at the University of Iowa, where he is studying with David Gompper. Ramin has done multiple collaborative projects with The University of Iowa Department of Dance professors including Spaldar (choreographed by Armando Duarte), Threshold (on a series of poems by Donika Kelly, choreographed by Melinda Jean Myers), Between the Cracks (choreographed by Eloy Barragán), Hyperdistanced and Mammal Hall (choreographed by Stephanie Miracle, directed by Auden Lincoln-Vogel). Recently, his collaborative album with Jean-François Charles, Jamshid Jam, was nominated in the World Music and Crossover Productions categories of Preis der Deutschen Schallplattenkritik (German Record Critics' Award). It has also received Global Music Awards Silver Medal for Outstanding Achievement. More information is available at ramin-roshandel.com